Covenant of Peace — What Herb Thinks
The phone rang and the excited voice said, "Did you hear what Olmert just said? He said he wants a covenant of peace!"
Although the TV was on and we were watching Israeli Prime Minister Ehud Olmert addressing his nation Read about it here, we didn't catch those words. However, if Olmert used those words, the implications could be immense.
While in the background I heard some talking head expert on Fox News attempting to answer the reporter's queries about these breaking events and their possible relation to Bible prophecy, I was scanning the latest posts on our discussion board. Not only were others reporting the same news, a member of our board even posted a screen shot of Olmert on Fox News with these words written below him: "Olmert: We seek a covenant of peace."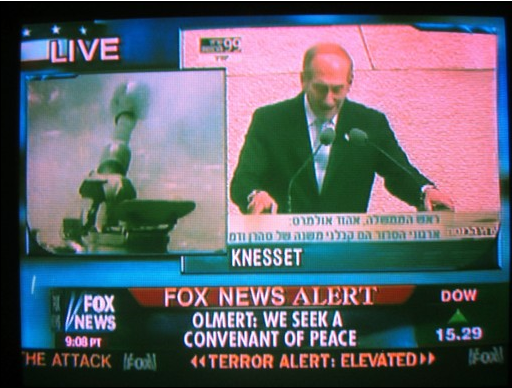 Shortly after the Middle East crisis began, I recall seeing a picture of the EU's Javier Solana at a news conference in the UK standing beside the British Foreign Minister. Soon to follow was the report about Solana's surprise visit to Lebanon. Read about it here. Evidently, Solana was to immediately to return to Brussels to inform the EU heads as to the results of his trip.
In the meantime, British Prime Minister Tony Blair — along with the UN's Kofi Annan — was at the G-8 telling President Bush that it was necessary for the international community to send forces into the region of conflict. Read about it here I And here. Bush, evidently, may be open to the idea.
Friends, this may be exactly what we students of Bible prophecy have been expecting. The way it looks, the stage may be set perfectly for the covenant with many foretold in the ancient Book of Daniel (Daniel 9:27). For the first time that I'm aware of, the majority of the international community — including many important Arab nations — are on the side of Israel. One report from the G-8 even said that French President Jacques Chirac was privately expressing his support for Israel's actions in Lebanon.
Added to all this, there is a seven-year period of interest fast approaching. Friends, it may be time for us students of prophecy to stop straining out gnats and see the camel before us.
Stay tuned!
— Herb Peters
7/17/06